28/03/2011
Parler du Japon les mots justes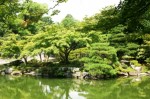 Beaucoup de clichés circulent sur les Japonais, stoïques face au malheur qui les frappe, ou résignés, ou …
Alors, je voudrais pour évoquer leur vécu avec les mots justes, recopier ci-dessous ce mail : des amis rencontrés à Tokyo lors d'un récent voyage, et qui heureusement n'ont pas physiquement souffert du tremblement de terre et du tsunami.
« I't s been about two weeks past since the earthquake.
« We have to save the electricity strictly, because of the shortage of power supply.
« It is a bit inconvenient but manageable too.
« We're getting used to the circumstance we're in.
« Every time I watch TV, I can't help feeling sad seeing people those who were suffered from Tsunami.
« The worst thing everyone worries about is still the radioactive problem.
« Despite they're trying to solve it, it seems to take a while to work it out.
« We don't know what's happening next but I think It's important to stay calm and collected.
« I somehow believe in our willpower to overcome this crisis.
« I'm sure we can do it ».
Par ailleurs, je souhaiterais également évoquer ici l'initiative de Céline Lazorthes, fondatrice de Leetchi.com, et de son équipe.
Leetchi.com, je vous en ai déjà parlé ici : un site permettant de créer des cagnottes en ligne, quelle qu'en soit la motivation.
En partenariat avec la Croix Rouge, ils viennent de mettre en place une collecte pour aider le Japon à se relever : www.leetchi.com/urgencejapon.
Vous pouvez également les retrouver sur Facebook.