15/09/2008
Frankie Goes to Hollywood ...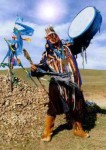 ... and Tea-Boh (Imbrt) to London !
Comme tous les bons immigrés, il a changé de nom, ou du moins modifié l'orthographe du sien : les accros des Apéros du Jeudi auront reconnu Thibaud, l'ancien stagiaire de Pourquoi tu cours.
Les plus courageux d'entre vous pourront jeter un oeil sur son blog : attention, c'est en anglais ...
Rien que la base line est tout un programme : "A Shaman explores the collective unconscious and finds ways to express our pains or desires. He experiences altered states of consciousness by using music, drugs or.. the web. I love the idea that we can "feel" what's in the air, without hyperrational methods ... This blog is about experiments on the web, experiential marketing and advertising".
Voilà, vous êtes prévenus. Pour ceux qui souhaitent le retrouver de temps à autre, je l'ajoute à la liste des P'tits jeunes, dans la colonne de gauche.