15/09/2009
So beautiful! it sound so real !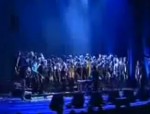 On peut découvrir de vraies pépites sur la toile, comme en témoigne ce clip que vient de me faire découvrir Olivier.
Postée sur You Tube le 13 juillet 2009, la vidéo a déjà été vue près de 60 000 fois et la blogosphère commence à la relayer, un peu partout dans le monde.
Question : qui a enregistré ce petit chef d'œuvre ?
Pas réussi à le découvrir !
Alors comme Jo, qui l'a découverte dès la mi Juillet, je ne peux que dire : "I would recommend that you just close your eyes and listen to it first and then watch the visual. I don't know who orchestrated it and where did this happen, so if any of you get any more info on this, please pass on".
Ou plus brièvement, comme sur les commentaires de You Tube : "Easily the most impressive thing I have seen on YouTube! Bravissimo!"
Si par hasard comme connaissez les artistes, merci d'ajouter un commentaire.